Podcast: Play in new window | Download | Embed
Subscribe: RSS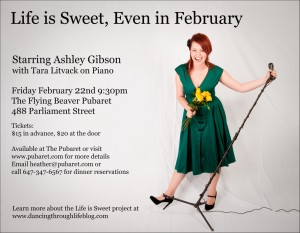 Ashley Gibson is an active performer and blogger whose first solo show is about more than shining a light on herself and her own talents. Her objectives for a multi-faceted project this February include honouring her mother's memory and raising awareness and encouraging dialogue about mental illness.
In addition to a performance on February 22nd, featuring a range of pop and
contemporary musical theatre numbers, the Life is Sweet project will turn her blog into a forum for guest writers who will share their accounts of mental illness, depression, and loss.
Proceeds from the show's ticket sales will be donated to the CAMH Foundation.