Podcast: Play in new window | Download | Embed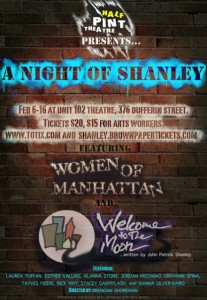 Alanna Stone and Lauren Toffan of Half-Pint Theatre may be small, but they're also mighty. A Night of Shanley brings two of John Patrick Shanley's tales of the Big Apple – Women of Manhattan and Welcome to the Moon – to Hogtown.
…and, as an added bonus, stay tuned after the episode for a couple of amusing moments that ended up on the virtual cutting room floor.